OUR HOTEL
Welcome to The Pink Palm Hotel where Iconic Boutique Luxury meets old world island charm. We invite you to experience the epitome of pleasure, romance, and tranquility at our newly renovated adults-only haven. 
Nestled on the hillside overlooking the seminal port of Charlotte Amelie gives us the best location for spectacular Caribbean views of the sea. Sip on tropical cocktails laying by the emerald pool, dine al fresco on notable fresh dishes, or simply relax while tanning on our sprawling sun deck. 
Our distinct destination sets the stage for a singular experience, making us the top-rated hotel in St. Thomas for couples seeking an intimate romantic escape, old friends excited to reconnect and business travelers looking for an inspired venue for gatherings.
Indulge in the allure of an undeniably unique locale, where every detail has been carefully curated to ensure your stay is nothing short of extraordinary. At the Pink Palm, we pride ourselves on being more than just a hotel; we are a sanctuary for those seeking a truly exceptional Caribbean getaway.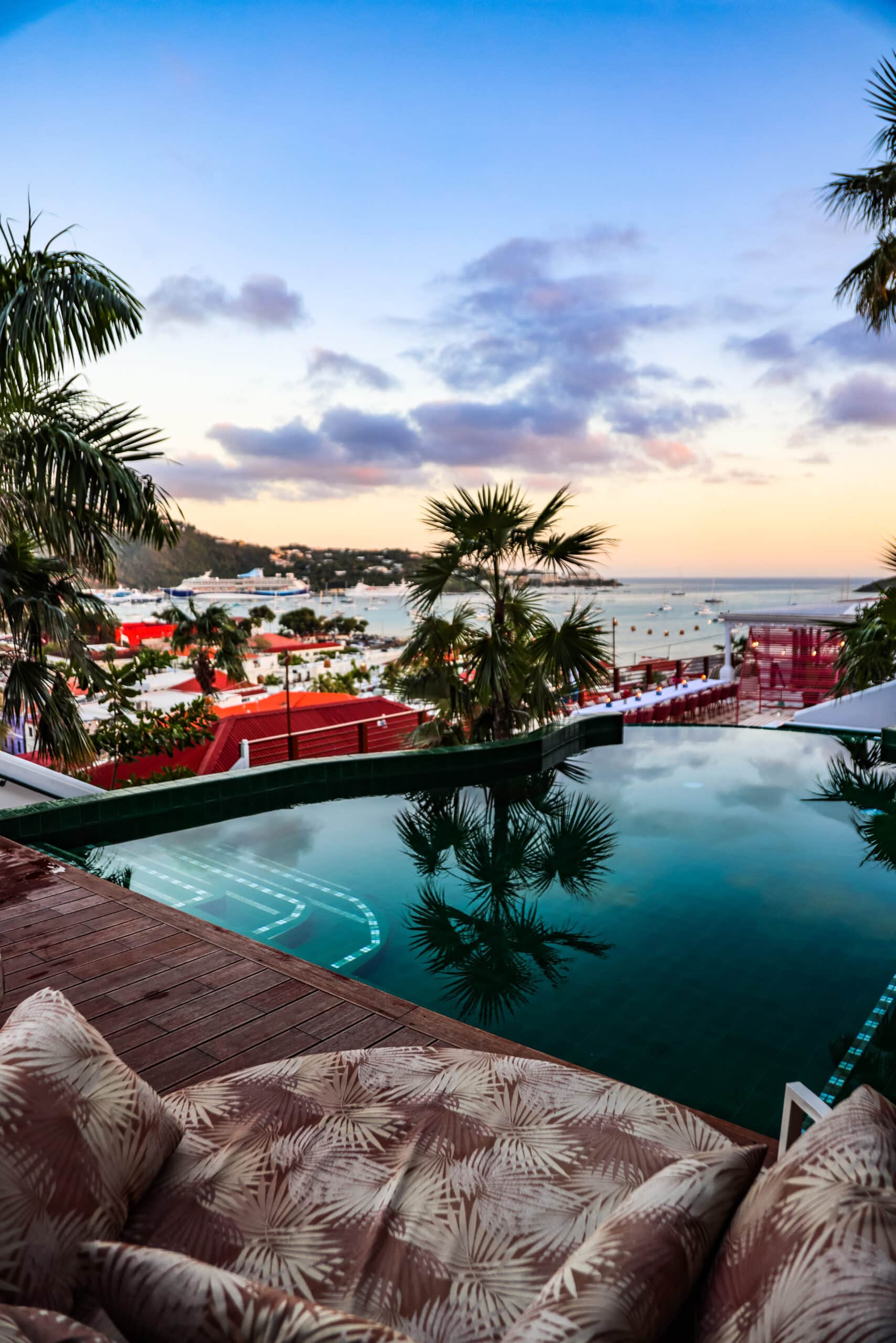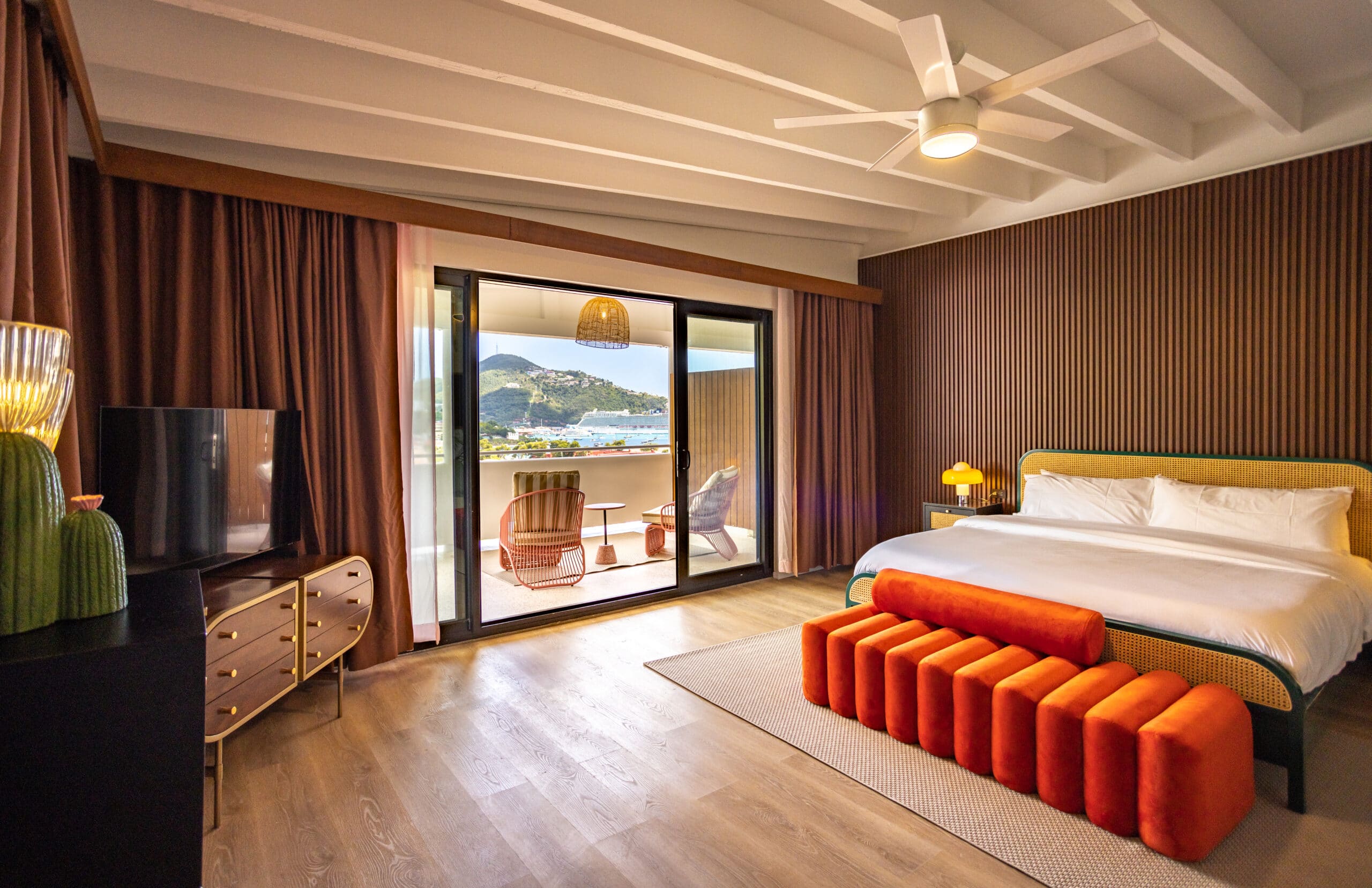 GUEST ROOMS
Think bright! Think vibrant! Think comfy!
After exploring white sandy beaches, snorkeling with turtles and savoring a candlelit dinner under starry Caribbean skies, retreat to the comfort of your carefully appointed room with personal touches to help you unwind in style. Each of our newly renovated rooms are designed with a playful nod to the islands.  And no two are the same,ensuring a one-of-a-kind experience. 
Every room includes amenities for your serenity and enjoyment. Including King size plush beds, silky soft sheets, Ortigia bath products, cozy cotton robes and Frette beach towels.  Fully stocked mini-bar, mini-fridge and smart TV? A must!
Sip complimentary coffee on your balcony that never runs out from your in-room coffee machine. Your stay also includes complimentary continental breakfast and WiFi.
We aim to anticipate your every need, but if you require anything else, please don't hesitate to ask. 
THE BEST HOTEL IN ST. THOMAS
GETTING HERE
The Pink Palm Hotel is located in the heart of downtown St. Thomas. Guests can shop, eat, drink, and explore all within walking distance, just a few steps from the hotel's lower entrance.
Entrances:
15 Murphy Gade, is located at the dead end of the road and is ideal for guests with rental cars or  significant amounts of luggage. 
2114 Crystal Gade, is the preferred entrance if arriving by taxi, and located directly next to the old synagogue close to Charlotte Amelie town center.
Please note: In order to access the main property and rooms, climbing several flights of stairs is required.  We highly recommend not renting a car as we cannot guarantee parking due to the limited space available.  Getting around the island is very easy and taxis are readily available
Good Morning - Good Afternoon - Good Evening
That's how locals greet each other on the island. We look forward to greeting you soon.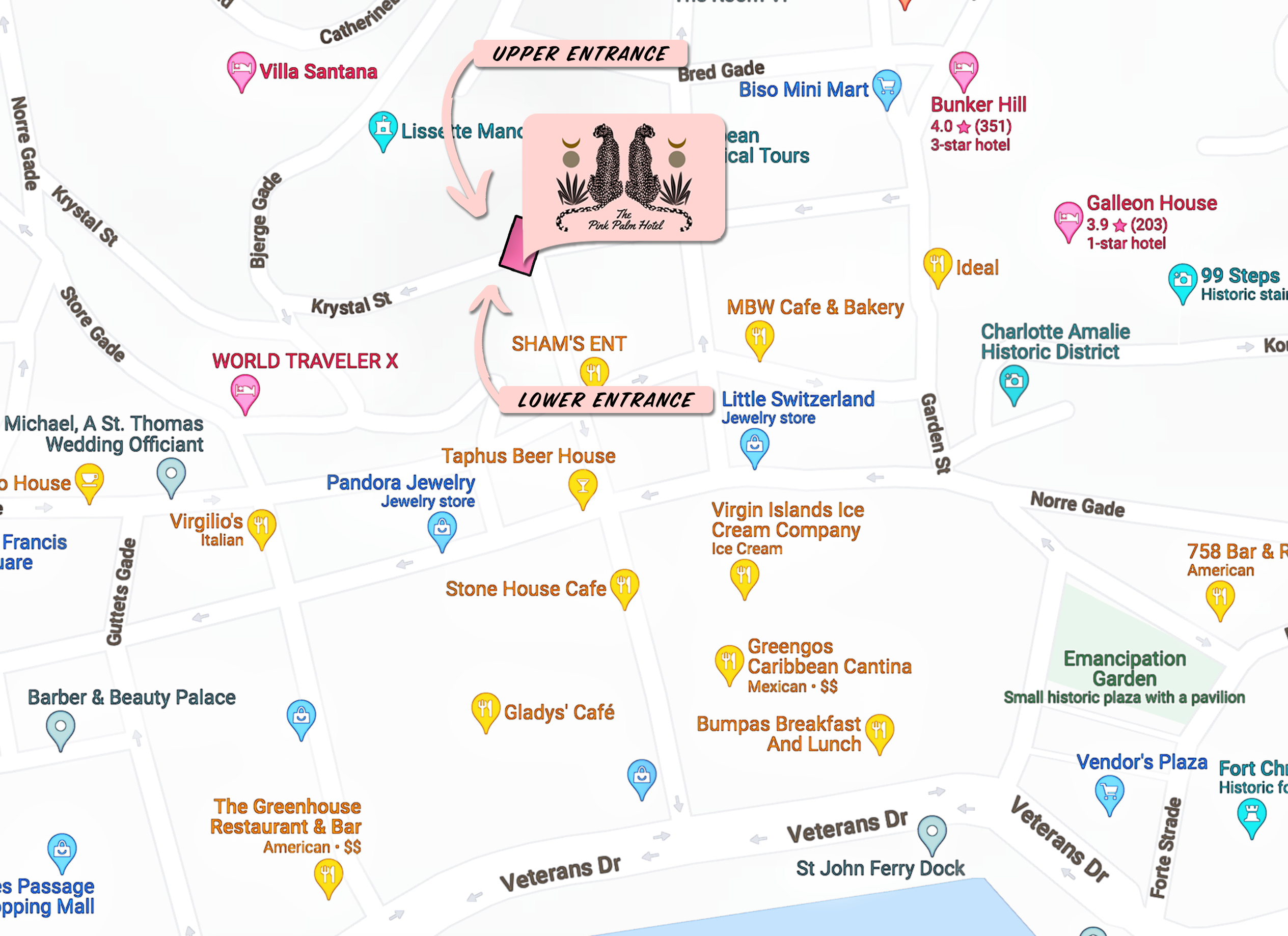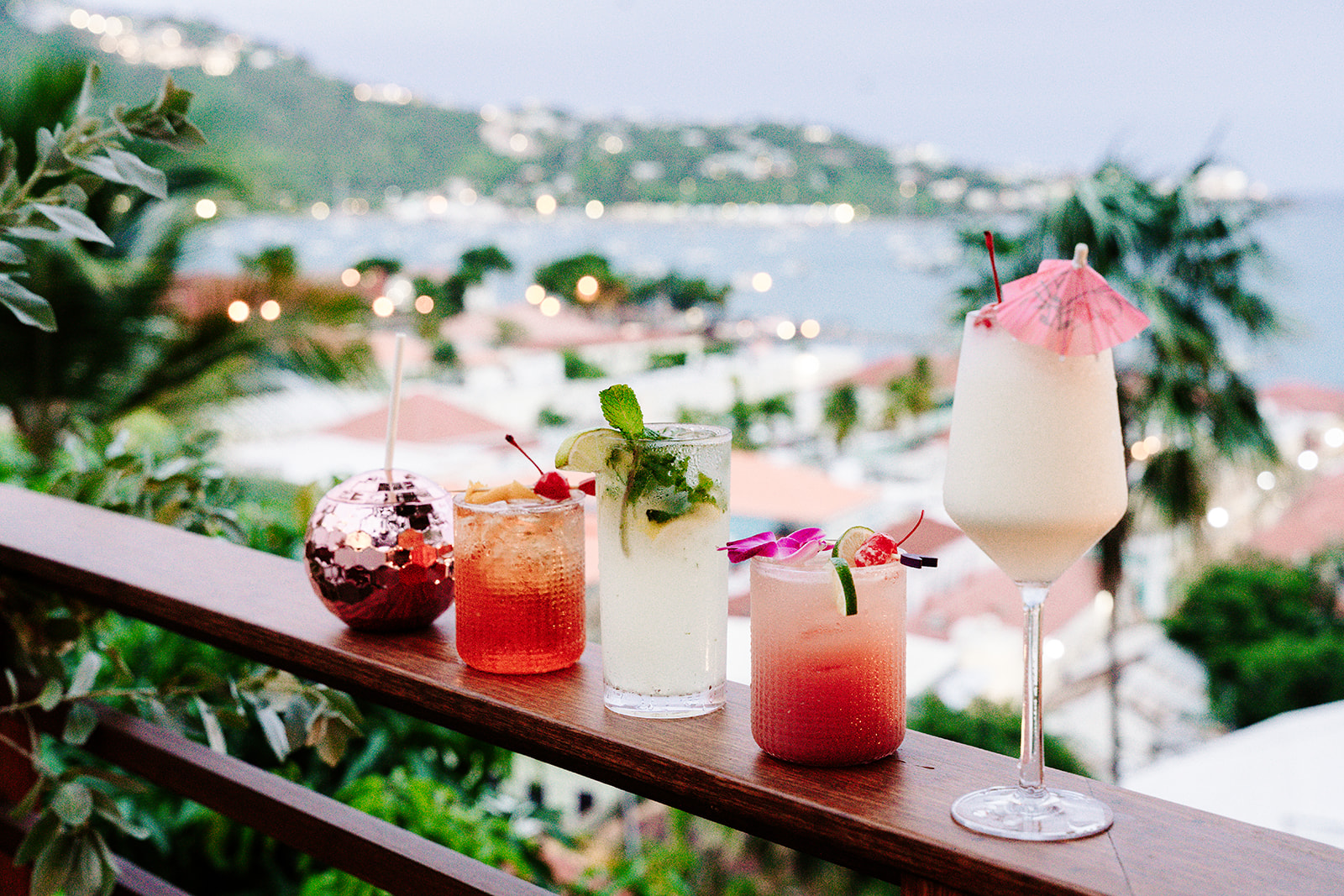 PRIVATE EVENTS
Celebrate your event at The Pink Palm Restaurant, the most exotic spot in St. Thomas
From a cocktail hour with full service cocktail bar, highly skilled bartenders & servers to a sit down dinner on beautiful pool deck with breathtaking views, The Pink Palm offers a sexy chic venue for any type of event.
Contact us today to discuss your special occasion and secure your preferred date. Let The Pink Palm's personalized service help you create cherished memories with an affair to remember.